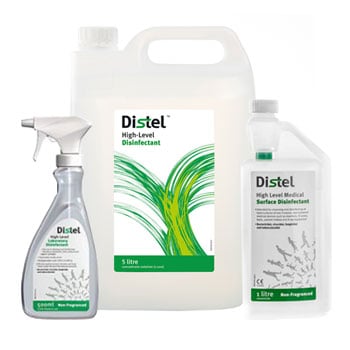 Distel Disinfectant
For infection control, cleaning and disinfecting hard surfaces, organic spillages and laboratory equipment. Distel surface disinfectant is effective against a range of organisms. The formulation is biodegradable and has been tested as non-corrosive and non-fuming. It is safe to use on materials found in clinical practices.
Products are tested and developed in laboratories and in real-world conditions to make sure they perform to the highest standard.
PLEASE NOTE: This product has been discontinued by the manufacturer, so we have limited stock availability. The suggested alternative is the Distel Dosing System.
RECOMMENDED USE:
Monitors
IV poles
Beds
Patient Trolleys
UKAS Accredited
It can be used in all high risk areas and on most surfaces including glass, metal, fabric, plastic and rubber.
Fragrance Free