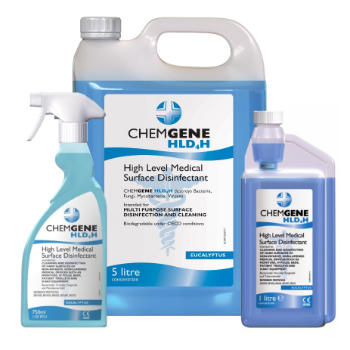 Surface Disinfectant for Healthcare Environments
A multi-purpose medical disinfectant, which combines a surface active detergent with cleaning and disinfection efficacy. The blend of technology and active ingredients enables this product to work quicker than comparable disinfectants and ensure that apoptosis (cell death) is achieved, rather than merely suspending activity, as with some products.
Suitable for use as a general surface disinfectant on work surfaces, floors and walls, as well as for the effective cleaning of bio-hazard contamination (blood, urine, vomit etc.) and high risk dirty conditions.
Tested against EN 1276, EN 13727, EN 13624, EN 13697, EN 1650, EN 14348, EN 13610 and EN 14476. For a comprehensive list of micro-organisms against which this product is effective, see our technical data sheet.
Available in a 750ml ready-to-use trigger spray (diluted at 1:10), 1 litre self-dosing bottle (concentrate), or 5L concentrate.
The 750ml and 1L formats of this product are CE marked as category IIa medical devices. Please note: this does not apply to the 5L concentrate.
Note: This product has been discontinued by the manufacturer, but we still have a small amount of stock available. Please contact us before purchasing.
FEATURES
Non-Corrosive
Quicker than comparable disinfectants
Suitable for use on bio-hazard contamination
Tested against a range of standards
Available in a range of formats