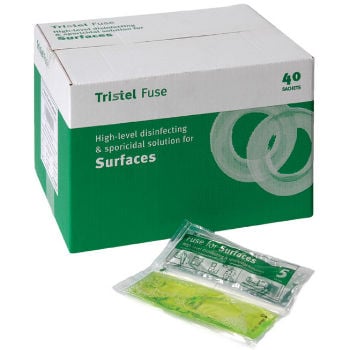 Tristel FUSE
A high-level disinfectant for preventing outbreaks and ward closures. Tristel Fuse for Surfaces is biocidal and sporicidal, and effective against a wide range of micro-organisms, including multi-drug resistant pathogens. It combines the powerful biocidal efficacy of chlorine dioxide with cleaning action, and is designed specifically for use on large surface areas such as floors and walls.
Tristel Fuse is a dual-compartment, burstable sachet containing Tristel Base and Activator solutions. When mixed upon bursting the sachet, Tristel's chlorine dioxide chemistry is generated. Each sachet produces five litres of working solution at one concentration, with one contact time to destroy a wide range of microorganisms. Tristel Fuse achieves high-level disinfection, including sporicidal efficacy, in five minutes.
Tristel Fuse is safe for use on most floors, walls, mattresses and stainless steel surfaces.
FEATURES:
Suitable for use on a wide range of non-porous surfaces
Contact time of 5 minutes
Active ingredient is Chlorine Dioxide
Burstable dual compartment pouch
RECOMMENDED USE:
Tristel Fuse is designed specifically for the cleaning and high-level disinfection of large hard non-porous surfaces in critical areas such as:
Operating Theatres
Oncology Units
Surgeries
Burn Units
Intensive Care Units
General Wards