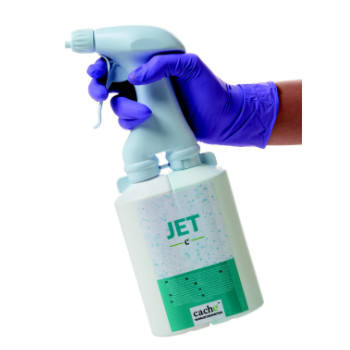 Tristel JET
JET is a powerful sporicidal disinfectant, can be used on medical device surfaces located near to the patient. JET is also a powerful cleaner destroying RNA and DNA in seconds. Its cleaning efficacy meets the requirements of a medical instrument cleaner, effectively reducing levels of protein and carbohydrate. It is the best safeguard for patients and staff wherever the risks of infection are highest.
Each unit consists of 2 x 400ml bottles of product side by side. One side contains a base, and the other side contains an activator - when the trigger is squeezed, the base and activator combine to create a dose of working solution. Each case contains 2 of these 800ml units.
PLEASE NOTE: Although each case contains 2 x (2 x 400ml) units, only one interchangeable trigger head is supplied per case.
RECOMMENDED USE:
Patient wards
Isolation wards
Operating theatres
Intensive care units
Oncology ward
Neonatal wards
FEATURES:
Suitable for use on a wide range of medical surfaces
Contact time of one minute
First level of compliance to all required EN Standards
Active ingredient is Chlorine Dioxide
MICROBIOLOGICAL EFFICACY:
JET is sporicidal, mycobactericidal, virucidal, fungicidal and bactericidal in one minute. It has been tested in accredited laboratories and is proven effective against a wide range of microorganisms, including:
Clostridium difficile
Tuberculocidal mycobacteria
Norovirus
Influenza A virus (H1N1)
Hepatitis B virus (HBV)
Human immunodeficiency virus (HIV)
Carbapenem-resistant Enterobacteriaceae (CRE) Klebsiella pneumoniae
Methicillin-resistant Staphylococcus aureus (MRSA)
Resistant Enterococci (VRE) Enterococcus faecium
Candida auris
Escherichia coli