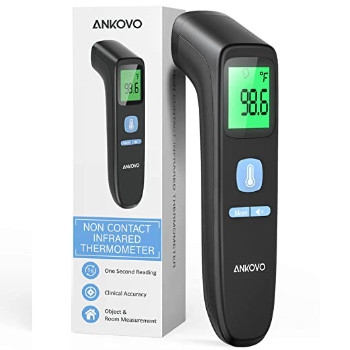 Infrared Forehead Thermometer
A HIGH QUALITY and accurate infrared thermometer which measures the temperature of the human body or an object based on the infrared energy emitted by the object. As well as body temperature, this thermometer can be used to measure the temperature of liquids such as food or drink. Simply point the temperature probe at the target to get a quick measurement. In forehead mode, the measuring range is between 32.0ºC - 42.9ºC (89.6ºF - 109.2ºF). In object mode, measuring range is 0ºC - 100ºC (32ºF - 212ºF).
2 Year Manufacturers Warranty avaible.
CONTACT US FOR BULK ORDER DISCOUNT.
The thermometer is able to store the last 35 readings, allowing you to track changes in temperature. No contact reduces the risk of germs and infection being transferred. An intelligent fever alarm sounds when readings exceed 37.5ºC (99.5ºF).
Clinically tested and proven to be reliable and accurate when used in accordance with the operating instructions.
Please note: Specifiaction and colour may differ from image. If you need confirmation, please check before oprdering.
FEATURES:
Easily switch between ºC and ºF
No-contact infrared thermometer
2 modes - forehead and object temperature
Auditory and visual fever warning
Sounds can be switched on and off
Memory stores 35 readings
Forehead/body measuring range between 32.0ºC - 42.9ºC (89.6ºF - 109.2ºF)
Object measuring range between 0ºC - 100ºC (32ºF - 212ºF)
Supplied with 2 x AAA batteries and a storage bag
2 Year Warranty