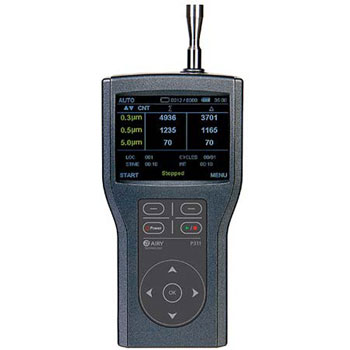 Handheld Cleanroom Particle Counter
Well designed, compact and easy to configure hand held particle counter. Complete with full validation certificate and carry case. Complies fully with the latest revision of ISO14644. Suitable for ISO and GMP cleanrooms.This particle counter is ideal for ISO Class 5 -9 cleanrooms where particles between 0.3 µm to 5.0 µm particles need to be measured.
Complete with 1 year calibration certificate ( calibrated to ISO 21501, in line with the requirements of ISO14644 )
USES
This particle counter is ideal for the following:
Class 5 to 9 cleanrooms

Spot Checks

HEPA filter integrity checks

Locating sources of particle contamination
For full cleanroom validation we do not recommend the hand held. One of our mobile particle counters is necessary. This is due to the sample volume and number of sample points necessary in full validation. Please speak to us if you require a quotation for a mobile counter.
For more details download the Technical Data Sheet
FEATURES:
Measures 0.3 µm to 5.0 µm particles
0.1 CFM (2.83 LPM) flow rate
Measures 3 channels of simultaneous data
Weighs only 1.26 lb (0.57 kg)
Long life laser diode
USB output
Removable and rechargeable AA batteries
Includes carrying case, battery charger and download software
Stores up to 8,000 sample records and 199 sample locations
View data recorded on-screen or via computer
Large color LCD display
Concentration limit of 4,000,000 per ft³
Complies with ISO 21501-4 and JIS B9921 standards
Lightweight high-impact injection molded plastic enclosure
Easy to clean and wipe down
Internal audible alarm
1 year limited warranty
Please note that due to the current GBP/USD volatility - the price of this item may vary. Prices will be confirmed on application. Delivery timescales may also vary.