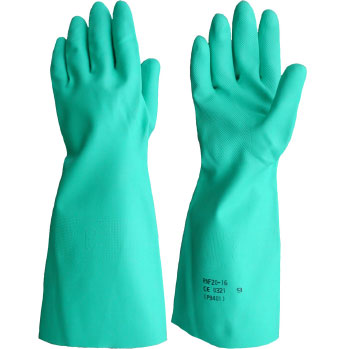 Nitrile Gauntlet
Strong durable nitrile gauntlet for more demanding applications with excellent resistance to a wide range of solvents, chemicals, oils and fats. Thicker and longer than standard versions for increased protection and specially formulated for dexterity with minimal finger fatigue.
'Lozenge' pattern on palm and fingertips improves grip performance. Suitable for use with food.
Applications include general handling of dilute chemicals, solvents, animal fats, alkalis, petroleum related products, agriculture, janitorial .
NOTE: Not recommended for use with concentrated corrosive liquids.
Tested to EN 374 AJK and EN 388 4002
FEATURES:
Strong and durable
Suitable for use with dilute chemicals and solvents
Suitable for use with food
Patterned palm and fingertips for improved grip
Length = 41cm (16")
Available in a range of sizes