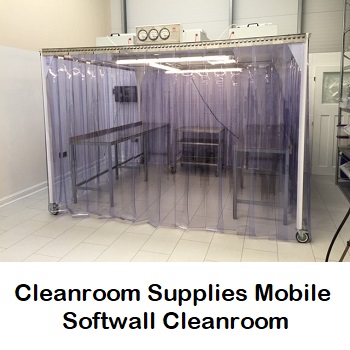 Softwall Sampling Booths
The softwall QC sampling booth provides ISO14644-1:(2015) Class 5 (100) work zone sampling conditions. The sampling booth can be constructed to suit standard pallets or multiple pallets. Flexible sides ensure ease of access and ensures the clean zone stays within Class 5 conditions.
QC Sampling Booth
The Clean Air Solutions Ltd Soft Wall QC Sampling Booth will provide an ISO 14644-1:(2015) class 5 (Fed std 209 class 100) clean zone environment for the QC sampling of raw materials in the warehouse/goods in areas. The soft wall sampling booth is suitable for the housing of a standard size pallet containing drums and bagged raw materials. The soft wall sampling booth is mobile, flexible in its use and can be transported easily between sampling locations. The sampling booth does not require any ductwork or separate air handler unit as the HEPA filters and fan systems are self-contained.
Many options available - we'll design a booth to your precise requirements. We can also provide installation costs on request.
Delivery costs are based upon mileage from Manchester. For export costs please enquire.
Key Features:
HEPA Filter to EN1822 99.999% H14 ULPA
Controls monitor air flow and filter conditions
Class 5 ISO 14644-1 (2015) in sample zone
Lockable castors on all legs
Easy to transport
Ready to sample within 2 minutes of start up
Over 600 air changes per hour
Fully mobile, easy to assemble
QA sampling for lab or goods in area
Standard Sizes:
1.5 metre x 1.5 metre or 3.0 metre x 3.0 metre
2.1 metres internal height
2.5 metres external height
All sizes are flexible to suit your requirements - please enquire.
Validation and Commissioning
Validation and Commissioning to ISO 14644-1:(2015) Class 5
DQ,IQ,OQ & PQ documentation included
Operator training provided
Full validation report in accordance with ISO 14644-1:(2015) and 3
Operation and maintenance manuals provided on completion of installation
Options include:
Virtually any size configuration 
Hazardous Environments
Options for flexible curtain all sides (standard) or part solid wall/part flexible curtain
Internal furnishings available