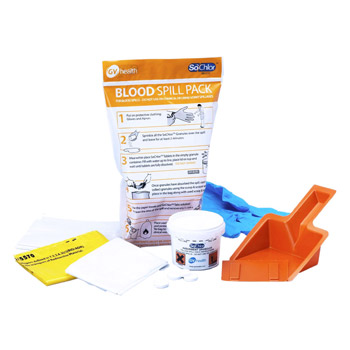 Blood Spill Pack
Blood spill packs provide a rapid, safe way to deal with spillages of blood and other bodily fluids.
These blood spill packs use high absorbency granules to ensure spillages can be safely cleaned and disposed of. The single-use pack comes with cleaning tools and PPE for rapid, safe cleaning of spillages of blood and bodily fluids. Chlorine tablets dilute to produce a disinfection solution fully effective against blood-borne pathogens and Tuberculosis (TB). Suitable for hard and soft surfaces.
Used throughout the NHS in hospitals, clinics, surgeries, laboratories and ambulances; dental and veterinary practices; nursing and care homes, schools, offices, businesses, aircraft etc.
Safe for use by non-specialist staff and first aiders.
Conforms to UK Department of Health and WHO guidelines for safe disinfection and clean-up of blood spills.
Pack Contents
Apron | Gloves | Scoop and Scraper | Paper Towels | Waste bag | Chlorine Granules | Chlorine Tabs with Diluter
Easy to follow illustrated instructions on pack.
Applications
Suitable for dealing with Blood, Breast Milk, Amniotic fluid, Vaginal Secretions, Semen, Cerebrospinal Fluid (CSF), Synovial Fluid, Pericardial Fluid, Pleural Fluid, Peritoneal Fluid, Unfixed Tissues/Organs, Saliva
Delivery
ORDER 13 PACKS FOR FREE NEXT DAY UK DELIVERY See Terms
Prices
| | | |
| --- | --- | --- |
| Size | Quantity | Price |
| One Size | 1x Blood Spill Pack | £ 5.49 |