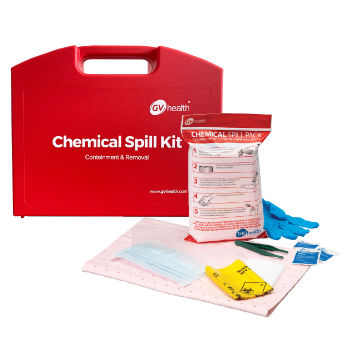 Chemical Spill Pack
Spill packs provide a rapid, safe way to deal with spillages of chemicals up to a litre in volume.We also supply packs to deal with larger spillages than one litre. Contact us for more information.
Single-use Chemical Spill Pack ideal for rapid spill response and protection against hazardous chemicals. Designed to clean up a wide range of toxic, flammable, corrosive or aggressive liquids (see full list below). The advanced absorbent pads fabric construction is unique in the fact that one side is very strong and less prone to stray fibres becoming detached whilst the other side is soft and absorbent. It combines some of the best features found in a laminated pad (no-lint & durable), while reducing the slip problem associated with absorbents that feature lamination on both surfaces. Each pad is made from a top layer of spun-bond polypropylene that is then sonically bonded to an underside of meltblown fibres. Fire retardant as per ASTM 726.
These chemical spill packs use high absorbency sorbent pads granules to ensure spillages can be safely cleaned and disposed of. The single-use pack comes with cleaning tools and PPE for rapid, safe cleaning of spillages of many checmicals.
Safe for use by non-specialist staff and first aiders.
See the list of chemials that these kits are suitabel for by clicking on the TECHNICAL tab.
PACK CONTENTS:
Sorbent Pads
Nitrile Gloves
Face Mask / Eye Shield
IPA Alcohol Wipes
Disposable Bag
Tweezers
Easy To Follow Instructions