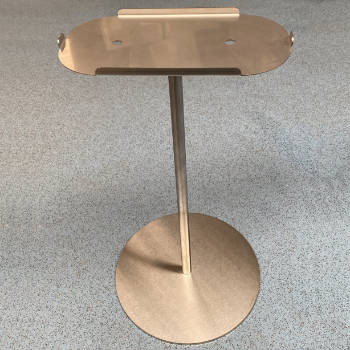 Stainless Steel Settle Plate Stand
NOTE: Please be aware that due to the current volatile prices of Stainless Steel, we are unable to guarantee the web prices on any of our Stainless Steel items. Once you have placed your order, we will contact you to advise of any changes to the pricing.
Available from:
£185.00
€ 220.00*
$242.00 USD*
*Euro and USD prices calculated using the exchange rate in June 2023.
Worldwide Shipping Available
A very high quality stainless steel floor stand for cleanroom settle plates / petri dishes. Ideal for positioning the plates in a non-intrusive but optimal location for cleanroom environmental monitoring. Mounted on a single rod with a solid, circular base manufactured from 6mm 304 stainless steel for improved stability. The top plate contains 4 x upturned tabs to prevent dishes from sliding off if the stand is disturbed.
The stand can be disassembled for ease of transportation and to reduce shipping costs.
We can design stands to suit your exact requirements, including different sizes and different tiers to locate more settle plates.
This version of the product is designed to hold 2 x 90mm dishes, but we can design and produce any variation to suit your specific requirements. Please contact us for more details.
FEATURES:
304 Grade Stainless Steel (Also available in Grade 316 Stainless Steel - please enquire)
Dimensions of this unit: 250mm (Dia.) x 450mm (H) - (adjustable to suit your exact requirements).
Dimensions are fully customisable to make the settle plate stands bespoke to your exact requirements. PLEASE FILL IN THE FORM BELOW WITH YOUR REQUIREMENTS AND WE WILL PRODUCE A QUOTATION FOR YOU.
DELIVERY:
Due to the Special Delivery and packing requirements for these items, Free Delivery is not available See terms
Please note that the lead time can vary on this item. Usually, the lead time will be 5-7 working days from approval of the technical drawing, but during busy periods manufacturing can take longer. Please contact us to confirm the lead time for your specific order.
(Currency rates quoted above subject to variation but will be fixed on our quotation).
REQUEST A QUOTE


If you have a design in mind and would like us to provide you with a quote, please send us an enquiry using the form below, and someone will be in touch as soon as possible to discuss your requirements.
This website uses javascript to enhance your browsing experience.
We recommend that you enable the use of javascript to get the most out of our website. Please see the links below for guides on how to enable scripting in your browser.