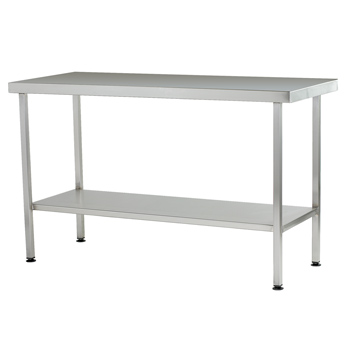 Stainless Steel Fully Welded Table with Undershelf
NOTE: Please be aware that due to the current volatile prices of Stainless Steel, we are unable to guarantee the web prices on any of our Stainless Steel items. Once you have placed your order, we will contact you to advise of any changes to the pricing.
Fully welded stainless steel construction for cleanroom, laboratory and food preparation areas. These products are designed and manufactured with quality and strength in mind. Ideal for sterile and hygienic environments, they provide a hygienic and easily cleanable working surface. Suitable for hygienic use within cleanrooms and laboratory environments.
Tabletops are manufactured from 304 Grade stainless steel, with Grade 430 legs. All welds are ground and polished to ensure minimum contamination pockets.
Our furniture is also available in higher grade 316 grade stainless steel. Why not watch our stainless steel selection video?
The legs are manufactured from stainless steel box section, and have low level box section tie bars on 3 sides, allowing under bench units to be placed underneath. Each leg is fitted with plastic adjustable feet which are used to even up the table level on un-even floor surfaces.
There is an undershelf on this option - so this may limit leg room if sitting at the bench, and limits placing of underbench units under the table. If you prefer a table with a void underneath, please click here.
These tables are not self-assembly – and do not have galvanised steel components.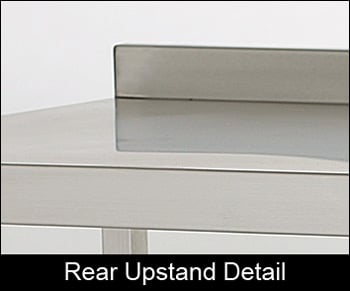 We also offer the option to add a rear upstand to the table. If you require this, then please select this option from the drop down box above.
Please Contact Us if you require a bespoke stainless steel table size (extra depths are available too) or variation on the details here.
If the details that you see here do not meet your exact requirements, we are more than happy to produce bespoke furniture and provide you with a quotation. This can include virtually any option, including perforated worktop to fully serviced workstations.
DELIVERY:
Due to the Special Delivery and packing requirements for these items, Free Delivery is not available. See terms