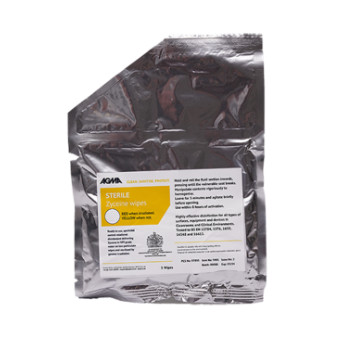 Zyceine Sterile Sporicidal Rotational Disinfectant 68 gsm Session Wipes
A sterile, rotational cleanroom sporicide. Zyceine is compatible with a CEN 216 compliant disinfection scheme and to compliesd with Annex 1 latest requiremetns.
Designed for use as part of a planned rotational disinfection procedure along with Alcohol Disinfectants and aqueous disinfectants. Zyceine can also be used as a response to adverse microbial results when a sporicide is required. Suitable for cleanroom disinfection procedures in pharmaceutical cleanroom and hospitals. Can be used on floors, walls and ceilings, and any other surfaces where highly effective microbial control is required.
Protect your cleanrooms with a unique two-component sporicide that offers high microbial efficacy once activated.
Totally stable until activated, Zyceine has a proven fungicidal efficacy of greater than a 3-log reduction in 2 minutes, and a yeasticidal efficacy greater than a 4-log reduction in 2 minutes.
This solution has met the MHRA/NHS requirement for a sporicide for their "wiping in" process which can achieve a 2 log reduction in 2mins. Available in a liquid pouch or high-quality wipes.
Formulated from sterile Zyceine and Hypochlorous Acid and blended with water for injection quality water (WFI), manufactured during a process guaranteeing a specification of less than 10 cfu per 100ml of water. Endotoxin levels measure below 0.25 EU/ml, prior to being sterilised by a fully validated gamma irradiation process at no less than 25kGy.
Two separate components are kept apart in innovative packaging until required. When required, the vulnerable internal is ruptured and the pack manipulated for 60 seconds to form a ready to use product.
A premium quality product suitable for use in all cleanrooms. Double bagged and suitable for transfer.
All products are available with full Quality Assurance documentation including:
Certificate of Analysis – C of A
Certificate of Irradiation – C of I
Certificate of Conformity – C of C
FEATURES:
Sterile and ready for use – broad spectrum activity
Efficacy independently validated
5 x wipes per sterile pack. Wipe size = 28 x 38cm
Wipe quality is 68 gsm
2 Years unopened shelf life
0.2 micron filtered and 25kGy gamma irradiated for sterility
Low Endotoxin level – suitable for product contact areas
Filled and double bagged under Grade A conditions in a Grade C (ISO 7) cleanroom
Batch coded with Detex dot to clearly indicate irradiation