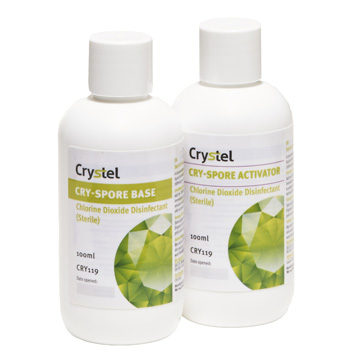 Sterile Chlorine Dioxide Sporicide
Chlorine dioxide based sporicidal disinfectant. Two part solution for cleanroom environmental and surface disinfection. Comes with one 100ml bottle of base solution and one 100ml bottle of activator solution.
For Safety Data Sheets, click on the SDS Tab and dowload your own in PDF format.
FEATURES:
Sporicidal Disinfectant
Easy to Use & Ready to Use
Sterile and Double Bagged
Effective Sporicide
Active Chlorine
RECOMMENDED USE:
Cry-spore is ideal for the disinfection of walls and floors and is safe to use on surfaces found within pharmaceutical production facilities.
DIRECTIONS FOR USE:
All pack sizes must be applied to pre-cleaned surfaces. For professional use only, further use instructions are detailed on the product label. Full product details are available along with CofA, CofI and CofC.
Must be diluted prior to use. Add the 100ml contents of activator to 4.8L of water, then immediately add the 100ml contents of base. Leave for 10 minutes to activate prior to use.
MICROBIOLOGICAL TEST DATA:
EN1276
EN1650
EN13704
EN13697
EN14476