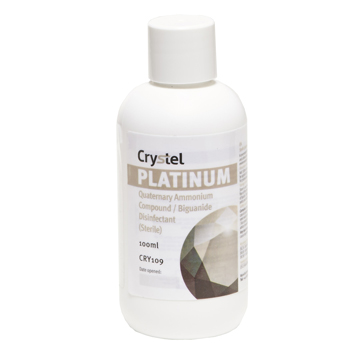 Crystel Platinum Concentrate
A rotational liquid disinfectant containing surface active agents and a blend of quaternary ammonium compounds (QAC) and biguanide for environmental and surface disinfection.
RECOMMENDED USE:
Platinum is ideal for the disinfection of product contact surfaces, filling and manufacturing equipment, walls, floors and drains. These surfaces can be mopped, wiped, soaked or sprayed. Platinum sterile products are particularly recommended for use on walls, floors and equipment.
Platinum is safe for use on surfaces found within Pharmaceutical and Personal Care production facilities.
DIRECTIONS FOR USE:
Must be applied to pre-cleaned surfaces. Leave for appropriate contact time. For professional use only, further use instructions will be detailed on the product label.
Must be diluted prior to use. Add one 100ml concentrate to 5L of water to make a 2% solution.
STANDARDS AND DIRECTIVES:
The product is registered or compliant with the following:
BS EN ISO 9001:2008
Biocidal Product Regulations 528/2012
1907/2006/EC REACH (Registration, Evaluation,
Authorisation and Restriction of Chemicals)
PRODUCT ANALYSIS:
The following tests have been conducted on the product:
Shelf-life testing
On-site analytical method
HPLC - High Performance Liquid Chromatography
TOC - Total Organic Compound
Rinsability Graph
COD - Chemical Oxygen Demand
Nitrogen/Phosphorous content
Corrosion Studies
MICROBIOLOGICAL TEST DATA:
EN 1276
EN 1650
EN 13697
Sterility Validation (sterile product only)
CERTIFICATION:
Certificate of Analysis with each batch
Sterility Testing (sterile product only)