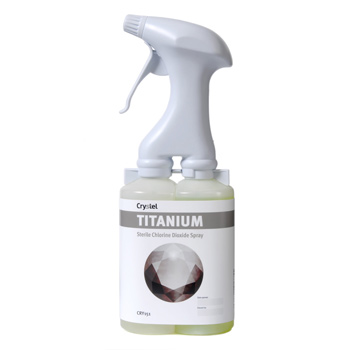 Crystel Titanium Spray
Sterile, Chlorine dioxide, sporicidal 800ml (when combined) disinfectant spray for environmental and surface disinfection. Sterile, Fast Acting Sporicidal Disinfectant.
View our Microbiological Efficacy Report in the Technical Tab. For Saftey Data Sheets, click on the SDS Tab and dowload your own in PDF format.
RECOMMENDED USE:
Titanium is ideal for the disinfection of transfer hatches,isolators and is safe for use on most surfaces found within Pharmaceutical production facilities.
DIRECTIONS FOR USE:
Titanium is ready-to-use. Download your Titanium User Guide in PDF Format
For professional use only. Full use instructions are detailed on the product label.
The pack contains 400ml activator solution (1g/kg sodium chlorite) and 400ml base solution (50g/kg citric acid).
Titanium generates Chlorine dioxide (ClO2) upon use.
STANDARDS AND DIRECTIVES:
The product is registered or compliant with the following:
BS EN ISO 9001:2008
Biocidal Product Regulations 528/2012
1907/2006/EC REACH (Registration, Evaluation, Authorisation and Restriction of Chemicals)
PRODUCT ANALYSIS:
The following tests have been conducted on the product:
Shelf-life testing
MICROBIOLOGICAL TEST DATA:
EN 1276
EN13704
EN 1650
EN 13697
Sterility Validation
CERTIFICATION:
Certificate of Analysis with each batch
Sterility Testing
Certificate of Irradiation
Crystel Titanium Microbiological Efficacy Report:
Organism
Test Method
Time
Log R
Log R Pass Criteria
Bacteria
Pseudmonas aeruginosa
EN 1276
60 seconds
> 5.31
> 5
EN 1656
30 seconds
> 5.13
> 5
EN13697
60 seconds
4.8
> 4
Escherichia coli
EN 1276
60 seconds
> 5.33
> 5
EN 13697
60 seconds
> 5.3
> 4
Staphylococcus aureus
EN 1276
60 seconds
> 5.39
> 5
EN 1656
30 seconds
> 5.16
> 5
EN 13697
60 seconds
4.3
> 4
Enterococcus hirae
EN 1276
60 seconds
> 5.33
> 5
EN 1656
30 seconds
> 5.22
> 5
EN 13697
60 seconds
4.1
> 4
Proteus vulgaris
EN 1656
30 seconds
> 5.27
> 5
Micrococcus luteus
EN 1276
60 seconds
> 5.3
> 5
Staphylococcus capitis
EN 1276
60 seconds
> 5.4
> 5
Staphylococcus hominis
EN 1276
60 seconds
> 5.3
> 5
Staphylococcus epidermis
EN 1276
60 seconds
> 5.3
> 5
Dermabacter hominis
EN 1276
60 seconds
> 5.3
> 5
Propionibacterium acnes
EN 1276
60 seconds
> 5.3
> 5
Klebseilla pneumonia
EN 13697
60 seconds
> 4.2
> 4
Methicillin-resistant Staphylococcus aureus (MRSA)
EN 13727
60 seconds
> 5.33
> 5
Multidrug-resistant Acintobacter baumannii (MDRA)
EN 13728
60 seconds
> 5.97
> 5
Vancomycin-resistant Enterococcus faecium (VRE)
EN 13729
60 seconds
> 5.07
> 5
Carbapenmen-resistant Klebsiella pneumonia (CRE)
EN 13730
60 seconds
> 6.32
> 5
Fungi
Candida albicans
EN 1650ÂÂ
60 seconds
> 4.21
> 4
EN 1657
30 seconds
> 4.42
> 4
EN 13697
60 seconds
> 3.9
> 3
Aspergillus brasiliensis
EN 1650ÂÂ
60 seconds
> 4.23
> 4
EN 13697
NA
NA
> 3
Aspergillus brasiliensis (wild isolate)
EN 13698
NA
NA
> 3
Viruses
Bovine enterovirus
EN 14675
30/60 seconds
4.13
> 4
Canine enterovirus
EN 14675
30/60 seconds
4.00/4.25
> 4
Feline enterovirus
EN 14675
30/60 seconds
4.38/5.25
> 4
Mycobacteria
Mycobacterium terrae
EN 14348
60 seconds
> 6.30
> 4
Mycobacterium avium
EN 14204
30/60 seconds
> 5.51
> 4
Clostridium spores
Clostridium difficle
EN 13704
60 seconds
3.81
> 3
Bacillus spores
Bacillus subtilis
EN 1040
EN 13704 superceeds EN 1040
> 5
EN 13704
60 seconds
> 3.10
> 3
SM Hard Surface
NA
NA
2
Bacillus atropeaus
SM Hard Surface
NA
NA
2
Bacillus cereus
EN 1040
EN 13704 superceeds EN 1040
> 5
EN 13704
60 seconds
On test
> 3
SM Hard Surface
NA
NA
2
Bacillus pumilis
EN 13704
60 seconds
> 3.48
> 3
SM Hard Surface
NA
NA
2
Bacillus lichenformis
EN 1040
NA
NA
> 5
SM Hard Surface
NA
NA
2
Bacillus sphaericus
SM Hard Surface
NA
NA
2