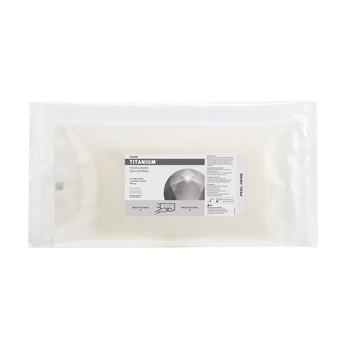 Crystel Titanium Wipes
Crystel Titanium Wipes are a rapid-action, sterile, sporicidal disinfectant designed specifically for surface disinfection in controlled environment as recommended by the NHS. They can be used on non-product contact surfaces such as workbenches, shelves, equipment, printers and surfaces outside the Laminar Air Flow cabinet (LAF) for sporicidal disinfection and as part of a rotational regime.
Crystel Titanium Wipes are made of a high quality non-woven, polyester cellulose blend and each measure 25cm x 23cm for excellent surface coverage.
EFFICACY:
Crystel Titanium Wipes are effective in two minutes. Efficacy is achieved at one consistent concentration and within the natural drying time of the surface.
Microbiological testing in independent and UKAS-accredited laboratories have confirmed the efficacy of Crystel Titanium Wipes against:
Bacillus subtilis
Aspergillus brasiliensis (formerly niger)
Candida albicans
Staphylococcus aureus
Staphylococcus haemolyticus
Micrococcus luteus
Pseudomonas aeruginosa
DIRECTIONS FOR USE:
Titanium is ready-to-use.
For professional use only. Full use instructions are detailed in the product data sheet.
Titanium generates Chlorine dioxide (ClO2) upon use.
STANDARDS AND DIRECTIVES:
The product is registered or compliant with the following:
BS EN ISO 9001:2008
Biocidal Product Regulations 528/2012
1907/2006/EC REACH (Registration, Evaluation, Authorisation and Restriction of Chemicals)
PRODUCT ANALYSIS:
The following tests have been conducted on the product:
Shelf-life testing
MICROBIOLOGICAL TEST DATA:
EN 1276
EN13704
EN 1650
EN 13697
Sterility Validation
CLASSIFICATION:
Crystel Titanium Wipes are classified as a biocide under the EU Biocides Regulation.
CERTIFICATION:
Certificate of Analysis with each batch
Sterility Testing
Certificate of Irradiation
Click icon to download our technical data sheet:
Click icon to download our Microbiological Efficacy Report for Titanium: