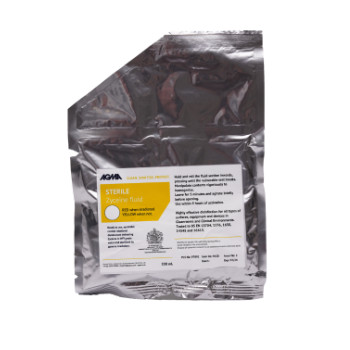 Zyceine Sterile Sporicidal Rotational Disinfectant Fluid Pouches
A sterile, rotational cleanroom sporicide. Zyceine is compatible with a CEN 216 compliant disinfection scheme.
Designed for use as part of a planned rotational disinfection procedure along with Alcohol Disinfectants and aqueous disinfectants. Zyceine can also be used as a response to adverse microbial results when a sporicide is required. Suitable for cleanroom disinfection procedures in pharmaceutical cleanroom and hospitals. Can be used on floors, walls and ceilings, and any other surfaces where highly effective microbial control is required.
Formulated from sterile Zyceine and Hypochlorous Acid and blended with water for injection quality water (WFI), manufactured during a process guaranteeing a specification of less than 10 cfu per 100ml of water. Endotoxin levels measure below 0.25 EU/ml, prior to being sterilised by a fully validated gamma irradiation process at no less than 25kGy.
Two separate components are kept apart in innovative packaging until required. When required, the vulnerable internal is ruptured and the pack manipulated for 60 seconds to form a ready to use product.
A premium quality product suitable for use in all cleanrooms. Double bagged and suitable for transfer.
All products are available with full Quality Assurance documentation including:
Certificate of Analysis – C of A
Certificate of Irradiation – C of I
Certificate of Conformity – C of C
FURTHER INFORMATION:
Learn more about Polymeric Biguanide and Amphoteric surfactants here.
FLUID POUCH:
Presented in the same packaging as the Sterile Zyciene Wipes, the fluid is activated on demand by activating the internal pouch vulnerable seal.
Each pack contains 200ml or 1 litre of active sporicide solution
Ideal for dosing Sterile Mop Covers and Sterile Cleanroom Wipes
FEATURES:
Sterile and ready for use – broad spectrum activity
Efficacy independently validated
Ideal for dosing Sterile Dry Wipes and Mop Covers
2 Years unopened shelf life
0.2 micron filtered and 25kGy gamma irradiated for sterility
Low Endotoxin level – suitable for product contact areas
Filled and double bagged under Grade A conditions in a Grade C (ISO 7) cleanroom
Batch coded with Detex dot to clearly indicate irradiation