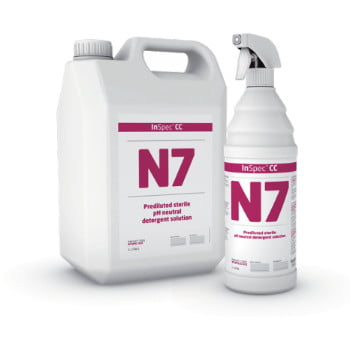 InSpec N7 Sterile Neutral Detergent
A pH neutral (pH7) 4% detergent solution designed for cleaning floors, walls, ceilings and other hard surfaces for the removal of process-derived residue and light soiling. Ideal for critical surfaces with soiling near to product manufacturing.
Very low foaming, low residue detergent with an excellent low toxicology profile. Suitable for manual cleaning and available in convenient, ready-to-use formats.
Manufactured to GMP in an ISO 6 cleanroom. The product is then filled and capped in an ISO 5 environment. RTU solutions are diluted with WFI-Quality water. The solution is filtered through a 0.2 micron filter and gamma irradiated to a validated process to give sterility assurance (SAL) of 10-6.
This product is intended to clean light soiling in a cleanroom environment. For more ingrained residue, we recommend the InSpec N10 Alkaline Detergent.
FEATURES:
pH Neutral Detergent
Low Foam
Low Residue
Low Toxicology Profile
Suitable for Manual Cleaning
Ready-to-Use Formats
3 Month Validated "In-Use" Shelf-Life
All Formats Manufactured with WFI-Quality Water
Multiple Bags for Cleanroom Transfer
Manufactured in Accordance with GMP