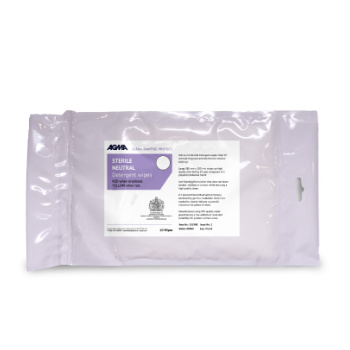 Sterile Neutral Detergent Wipes
Low particulate wipes impregnated with a neutral detergent in high purity water, specifically developed for cleanroom use prior to disinfection. With highly effective surface cleaning properties, it is ideal for deep cleaning prior to disinfection, to remove visible soiling or build up of residue. Manufactured using WFI quality water guaranteeing a low endotoxin level and suitability for product contact areas. 0.2 micron filtered and 25kGy gamma irradiated for sterility.
Optimised fluid dosing in conjunction with the highly absorbent 68 gsm polyester/cellulose blend enables the product to hold sufficient fluid for in-use requirements without drying out too quickly.
Each wipe is 28 x 38cm, allowing a large surface area to be covered, and quarter folded for easy wiping convenience. Double bagged and batch coded with Detex dot to clearly indicate successful irradiation for peace of mind. Packed in a triple laminate, re-sealable foil bag which is easily opened and closed whilst wearing gloves. 2 year unopened shelf life.
FEATURES:
Low particulate wipes
Low endotoxin level
0.2 micron filtered and 25kGy gamma irradiated
Highly absorbent 68 gsm polyester/cellulose wipes
Wipe dimensions: 28 x 38cm
Wipes quarter folded
Double bagged and batch coded with Detex dot
Packed in a triple laminate, re-sealable foil bag
2 year unopened shelf life
Packs of 10 wipes