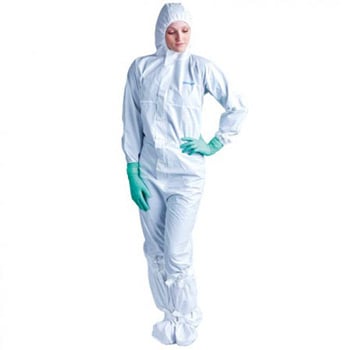 BIOCLEAN-D STERILE Type 5 & 6 Coveralls
STERILE Type 5 & 6 coveralls are a superior quality garment manufactured from breathable liquid resistant microporous material. The material allows the skin to breathe whilst resisting the penetration of many different non hazardous liquids and particles. IPA resistant ink ensures that bags can be wiped down with cleaning fluid without fear of cross contamination from printing inks. Typical applications include pharmaceutical, forensic science and medical.
OVERBOOTS can be purchased separately
FEATURES:
Type 5 & 6 Certified Category III
Anti Static to EN 1149-5
Barrier to Radioactive Particles - Class 1
Barrier to Infective Agents - EN 14126
GAMMA Iradiated
Full traceability
Thumb Loops
IPA Resistant Ink
Lint Free Microporous Material
Breathable Fabric
Zip Flap Cover
DELIVERY:
FREE UK NEXT DAY DELIVERY See terms
PRICES:
Size
Quantity
Price
Universal Size
Carton of 20
£ 135.80
Equivalent price of £6.79 pence each based on carton price.