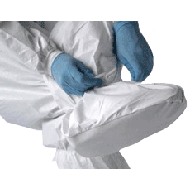 BIOCLEAN-D STERILE Overboots with Anti Slip Sole
This overboot is soft and microporous, strong and resistant to chemical splash and dust and can be used for a wide range of applications. Boot incorporates a synthetic leather anti-slip sole.They are anti-static and lint free and are suitable for clean room applications. Reduces microbiological growth and contamination in aseptic conditions.
Used to protect the wearer from their environment or the environment from the wearer. The range has been designed to allow for maximum comfort and wearability.
Boots are universal size with elasticated top and ankle ties. Suitable for male or female use. Can be worn over outdoor shoes. Toes are pushed to the front of the boot and the excess length is folded behind the heel and then the ties secure the boot around the ankle. The anti-slip sole reduces the risk of slip.
STERILE:
Sterile - by Gamma Irradiation
PRINTING:
IPA resistant ink ensures that bags can be wiped down with cleaning or sterilising fluids without fear of cross-contamination from printing inks.
PACKAGING:
One pair per sealed plastic bag;
15 sealed bags (15 pairs) per sealed outer bag;
5 sealed bags of 15 pairs per sealed carton liner;
One carton liner per carton (75 pairs).
COMPATIBILITY:
ISO Class 4 & EU GMP Grade A compatible.