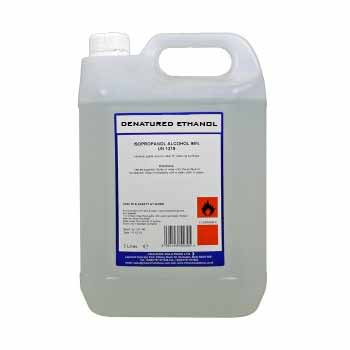 Sterile Denatured Ethanol (DE) Alcohol – 5 Litre Bottles
70% Denatured ethanol alcohol (DE) in water for injection quality water (WFI). All products are manufactured in ISO Class 7 Cleanroom, and are filtered to 0.2um at point of fill, double bagged and gamma irradiated 20-45kGy.
A premium quality product suitable for use in all cleanrooms. Double bagged and suitable for transfer.
All products are available with full Quality Assurance documentation including:
Certificate of Analysis – C of A
Certificate of Irradiation – C of I
Certificate of Conformity – C of C
FURTHER INFORMATION:
Learn more about the irradiation process here.
Discover the difference between DE and IPA alcohol here.
FEATURES:
Sterile and ready for use
2 x 5 Litre bottles per case
2 Years unopened shelf life
0.2 micron filtered and Gamma irradiated for sterility (20-45kGy)
Low Endotoxin level – suitable for product contact areas
Filled and double bagged under Grade A conditions in a Grade C (ISO 7) cleanroom
Batch coded with Detex dot to clearly indicate irradiation
DELIVERY:
Please note that due to the Transportation of Dangerous Goods Act, the carriage of this item is slightly more expensive as the law requires special handling. Although this is a stock item, these regulations result in a slightly longer delivery time - typically 2 days for mainland UK. If your order includes other items, they may be sent by UPS on a next day service and the chemicals will follow by special courier.