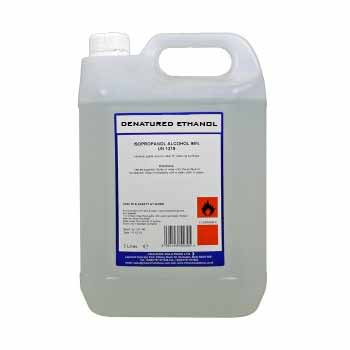 Sterile Denatured Ethanol (DE) Alcohol – 5 Litre Bottles
EXISTING CUSTOMERS PLEASE NOTE: Due to the current Coronavirus issues, although our website shows this item as OUT OF STOCK – we do have a large stock that we are reserving for existing customers only. We are simply limiting orders being placed through our website.
Existing customers please email us your requirements and we will fulfil your orders as long as they reflect your previous ordering pattern history. Email: [email protected]
NEW CUSTOMERS PLEASE NOTE: We are prioritising fulfillment of orders to our large number of existing customers. You may still place your orders online, however we may contact you to discuss your requirements and availability.
We are not currently delivering to domestic addresses. Stock is being conserved for medical related front line services.
70% Denatured ethanol alcohol (DE) in water for injection quality water (WFI). All products are manufactured in ISO Class 7 Cleanroom, and are filtered to 0.2um at point of fill, double bagged and gamma irradiated 20-45kGy.
A premium quality product suitable for use in all cleanrooms. Double bagged and suitable for transfer.
All products are available with full Quality Assurance documentation including:
Certificate of Analysis – C of A
Certificate of Irradiation – C of I
Certificate of Conformity – C of C
FURTHER INFORMATION:
Learn more about the irradiation process here.
Discover the difference between DE and IPA alcohol here.
FEATURES:
Sterile and ready for use
2 x 5 Litre bottles per case
2 Years unopened shelf life
0.2 micron filtered and Gamma irradiated for sterility (20-45kGy)
Low Endotoxin level – suitable for product contact areas
Filled and double bagged under Grade A conditions in a Grade C (ISO 7) cleanroom
Batch coded with Detex dot to clearly indicate irradiation
DELIVERY:
Please note that due to the Transportation of Dangerous Goods Act, the carriage of this item is slightly more expensive as the law requires special handling. Although this is a stock item, these regulations result in a slightly longer delivery time - typically 2 days for mainland UK. If your order includes other items, they may be sent by UPS on a next day service and the chemicals will follow by special courier.