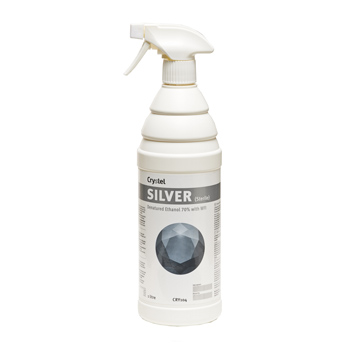 Crystel Silver Spray
EXISTING CUSTOMERS PLEASE NOTE: Due to the current Coronavirus issues, although our website shows this item as OUT OF STOCK – we do have a large stock that we are reserving for existing customers only. We are simply limiting orders being placed through our website.
Existing customers please email us your requirements and we will fulfil your orders as long as they reflect your previous ordering pattern history. Email: [email protected]
NEW CUSTOMERS PLEASE NOTE: We are prioritising fulfillment of orders to our large number of existing customers. You may still place your orders online, however we may contact you to discuss your requirements and availability.
70% Denatured Ethanol with Water for Injection.
Our 70/30 DE alcohol has many uses and is manufactured to the highest standard. In the cleanroom setting, alcohol disinfectants refer to two chemical compounds, denatured ethyl alcohol (DE) and isopropyl alcohol (IPA) also referred to as isopropanol. IPA and DE are broad spectrum antimicrobial and are rapidly bactericidal, fungicidal and viricidal, killing most bacteria within five minutes of exposure.
See our guide : Which Alcohol Should I Use ?
For full details, download the SDS Sheet from the SDS tab above.
For IPA Specification download the Technical Sheet from the Technical Tab above.
We hold many data sheets relating to this product. Such as micro testing, sterility validation, endotoxin reports and external efficacy test data. If you require any of this additional information, please do not hesitate to contact one of our team.
DELIVERY INFORMATION:
Please note that due to the Transportation of Dangerous Goods Act, the price of this item includes the additional cost for hazardous materials handling. This is unavoidable as the law requires special handling.
RECOMMENDED USE:
Silver is ideal for the disinfection of product contact surfaces, spraying in and gloved hands.
This ready-to-use solution is suitable for all surfaces found within Pharmaceutical and Personal Care production facilities.
DIRECTIONS FOR USE:
These sterile packs contain a ready-to-use 70% v/v
Denatured Ethanol with Water for Injection. For professional use only, further use instructions will be detailed on the product label.
STANDARDS AND DIRECTIVES:
The product is registered or compliant with the following:
BS EN ISO 9001:2008
Biocidal Product Regulations 528/2012
1907/2006/EC REACH (Registration, Evaluation,
Authorisation and Restriction of Chemicals)
PRODUCT ANALYSIS:
The following tests have been conducted on the product:
Shelf-life testing
TOC - Total Organic Compound
COD - Chemical Oxygen Demand
Nitrogen / Phosphorous content
MICROBIOLOGICAL TEST DATA:
EN 1276
EN 1650
EN 13697
Sterility Validation
Endotoxin Validation
CERTIFICATION:
Certificate of Analysis with each batch
Sterility Testing
Endotoxin Testing
Certificate of Irradiation
Click icon to download our Technical Data Sheet relating to Microbiological testing for Sterile Crystel Silver: