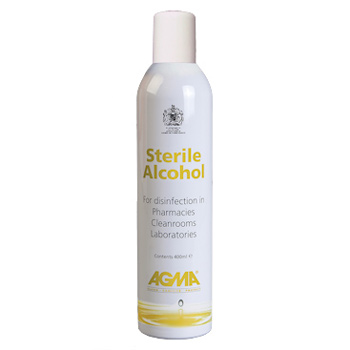 STERILE Isopropanol (IPA) Alcohol – 400ml Aerosol Sprays
Online orders are limited to 1 x 400ml Aerosol Spray. Larger volumes are available but you must first email us with your requirements. We will vet each order, and cancel and refund orders we deem not to be adhering to these limitations. For larger bulk orders for front line and NHS, pharmaceutical and medical device production companies - you must email your requirements first to [email protected].
We are not currently delivering to domestic addresses. Stock is being conserved for medical related front line services.
70% Isopropanol or isopropyl alcohol (IPA) in water for injection quality water (WFI). All products use European Pharmacopeia grade alcohol blended with WFI quality water to guarantee endotoxin levels below 0.25 EU/ml, prior to being sterilised by a fully validated gamma irradiation process at no less than 25kGy.
Aerosols are easy to use and a popular means of applying sterile alcohol. They are lightweight and welcomed by users who find litre bottle trigger action tiring. Being pressurized also helps to maintain sterility of product.
A premium quality product suitable for use in all cleanrooms. Double bagged and suitable for transfer.
All products are available with full Quality Assurance documentation including:
Certificate of Analysis – C of A
Certificate of Irradiation – C of I
Certificate of Conformity – C of C
See our guide : Which Alcohol Should I Use ?
For full details, download the SDS Sheet from the SDS tab above.
For IPA Specification download the Technical Sheet from the Technical Tab above.
DELIVERY INFORMATION:
Please note that due to the Transportation of Dangerous Goods Act, the price of this item includes the additional cost for hazardous materials handling. This is unavoidable as the law requires special handling.
FURTHER INFORMATION:
Learn more about the irradiation process here.
Discover the difference between DE and IPA alcohol here.
FEATURES:
Sterile and ready for use
16 x 400ml 5 aerosols per case
Non-flammable, inert aerosol propellant
Lightweight and easy to use – no tiring trigger use
2 Years unopened shelf life
0.2 micron filtered and 25kGy gamma irradiated for sterility
Low Endotoxin level – suitable for product contact areas
Filled and double bagged under Grade A conditions in a Grade C (ISO 7) cleanroom
Batch coded with Detex dot to clearly indicate irradiation