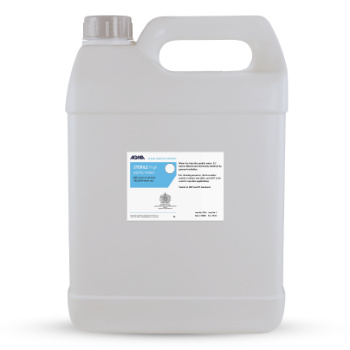 Sterile Water for Injection (WFI) Quality Water – 1 & 5 Litre Bottles
Sterile, high purity water is one of the simplest cleanroom solvents for surface cleaning. It acts as an excellent solvent for ionic salts and sugars which are often used in pharmaceutical preparations. Additionally, it is ideal for removing residues left by disinfectants and detergents.
Our water for injection quality water (WFI) is manufactured during a process guaranteeing a specification of less than 10 cfu per 100ml of water.
Endotoxin levels below 0.25 EU/ml, prior to being sterilised by a fully validated gamma irradiation process at no less than 25kGy.
A premium quality product suitable for use in all cleanrooms. Double bagged and suitable for transfer.
All products are available with full Quality Assurance documentation including:
Certificate of Analysis – C of A
Certificate of Irradiation – C of I
Certificate of Conformity – C of C
Note! Not suitable for injection or irrigation purposes. Whilst this water meets all the standards for WFI Quality water, it is not approved for human injection by MHRA.
FURTHER INFORMATION:
Learn more about the irradiation process here.
Discover the difference between High Purity water production processes and standards here.
FEATURES:
Sterile and ready for use
Bottles are individually double bagged
1 Litre bottles per case
2 Years unopened shelf life (from manufacture)
0.2 micron filtered and 25kGy gamma irradiated for sterility
Low Endotoxin level – suitable for product contact areas
Filled and double bagged under Grade A conditions in a Grade C (ISO 7) cleanroom
Batch coded with Detex dot to clearly indicate irradiation