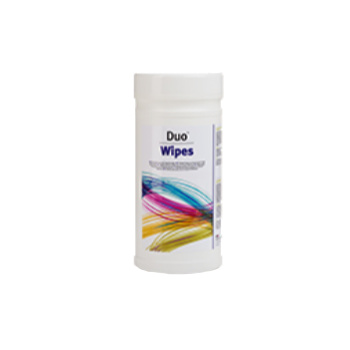 Tristel Duo Wipes
Dry wipes for use with the Tristel Duo for Ultrasound disinfectant foam. Designed specifically for the even application of Tristel Duo foam, Duo Wipes are made of a soft, lint-free cloth, preventing fiber residue and scratching of delicate surfaces. Due to their low absorption power, Duo Wipes enable the optimum delivery of disinfectant onto the surface. Manufactured from 100% polypropylene, these wipes are non-woven and low-linting, and they are pre-cut to prevent shedding when dispensed. 18gsm thickness. Sold in tubs of 200 wipes.
To use, dispense 2 doses of Tristel Duo onto a Duo Dry Wipe, and use the wipe to spread the foam over the surface of the probed and associated parts. Ensure all areas are covered. Leave the surface to dry to ensure a minimum contact time of 30 seconds.
FEATURES:
For use with Tristel Duo for Ultrasound
100% polypropylene
Non-woven
Low-linting
Pre-cut
18gsm Thickness
Minimum contact time of 30 seconds
Tubs of 200
STANDARDS AND DIRECTIVES:
Duo Wipes are a Class I medical device in accordance with the EU Medical Devices Regulation (MDR 2017/745).