Sterile Biocide & Sporicide Selection
Preventing contamination of your cleanroom and keeping the environment sterile requires a lot of work and a lot of forethought. The most essential preparation is ensuring that your supply of BPR compliant high performance, high efficacy biocide and sporicide disinfectants is sufficient for your location's needs.

Rotational sterile disinfectants are needed in many industries, including:
Pharmaceutical, biotechnology, life science & medical device manufacturing
Recent developments in EU BPR regulations have caused biocidal disinfectant manufacturers and end users alike to review their situation and ensure that they're in compliance. These revisions address issues in the use and disposal of biocides – for more on this, see our blog on the topic.

Learn more about the difference between Isopropanol (IPA) and denatured ethanol (DE) alcohol: Alcohol Disinfectant Selection Guide

NHS Sterile Transfer Protocol
While alcohol sprays and wipes are effective anti-bacterial disinfectants, the MHRA requests the use of sporicide as part of transfer disinfection standard operating procedure (SOP). This is mandatory for Specials manufacture (and recommended in any case!) The MHRA statement reads "Before transfer to the manufacturing room, a sanitization step using a spray and wipe techniques including a sporicidal agent designed to inactivate bacterial and fungal spores must be carried out."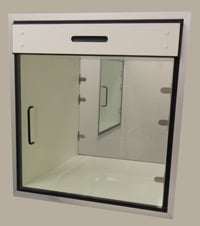 We have seen greater discussion on the topic of sporicides, relating to the NHS sterile aseptic transfer process. Many cleanrooms were using alcohol spray and/or wipes but didn't employ a sporicidal in their aseptic transfer processes. However, alcohol disinfection is ineffective against a large percentage of spores.
Another recent report, this one from the NHS Pharmaceutical Micro Protocols Group, requires all NHS aseptic units to incorporate sporicidal disinfection in their aseptic transfer process. They state that a minimum sporicidal efficacy should be greater than a 2 Log reduction within 2 minutes.
The NHS Pharmaceutical Micro Protocols Group, also highlighted that although spraying is an effective delivery method – best practice recommends the use of impregnated wipes to limit health and safety corrosion effects.
Consult the product's Safety Data Sheet and ensure the correct Personal Protective Equipment (PPE) is worn. Irrespective of what delivery method is used - PPE would include appropriate respiratory protection, eye protection and disposable gloves. It is important that the glove breakthrough data of your cleanroom disposable gloves is studied to ensure that they are resistant to alcohol and chemicals within the disinfectants.
Sterile or Non-Sterile?
GMP requires that "Disinfectants used in Grade A and B areas should be sterile prior to use."
We have found that many of our customers prefer the peace of mind brought by using sterile products even when not required by MHRA/GMP.
Sterile Biocide and Sporicide Product Choices
NHS aseptic cleanrooms and other pharmaceutical facilities following GMP use brands including Ecolab's Shield Medicare Klercide. While the Klercide products (previously known as Biocide A, B, C, D, E, F, S, X & Y) have a proven track record and are relied on by many, they more highly priced than many of their competitors in the field.

Being able to rely on a reliable source of your chosen disinfectant is absolutely essential, of course, but while the Klercide brand is easy to put your faith in, it's hardly the only option.

At Cleanroom Supplies we have vetted all major brands of sterile disinfectant and have chosen three high quality, reliable brands to stock. We stock AGMA, Crystel and InSpec non-sterile and sterile biocides as they are fully BPR compliant, high efficacy and can be offered at a highly competitive price point.
We have compiled a table comparing alternative to the Klercide range that are available from stock at Cleanroom Supplies Ltd.
Sterile Cleanroom Biocide Alternatives

ECOLAB Shield Medicare Products

Formerly

Basic Chemical Formulation

Cleanroom Supplies Product Stock List

AGMA

CRYSTEL

INSPEC

Klercide Quat / Biguanide

Klercide-CR Biocide A

Quaternary Ammonium Compound & Biguanide

-

QT

Klercide Sporicidal Chlorine / Quat

Klercide-CR Biocide B

Chlorine Dioxide & Quaternary Ammonium Compound

-

QT

Klercide Sporicidal Peroxide

Klercide-CR Biocide C

6% Hydrogen Peroxide in WFI

OX or HA

Klercide Amine 

Klercide-CR Biocide D

Amphoteric Surfactant

PROCEINE

DIAMOND

AN

Klercide Sporicidal Active Chlorine

Klercide-CR Biocide E

Sodium Hypochlorite providing 0.5% available Chlorine

-

-

OX or HA

Klercide Low Residue Quat

Klercide-CR Biocide F

Quaternary Ammonium Compound and Sterile WFI

-

QT

Sporicidal Active Chlorine 

Klercide-CR Biocide S

Sodium Dichloroisocyanurate providing 0.5% Chlorine

-

OX or HA

Klercide Amine Concentrate

Klercide-CR Biocide Y

Amphoteric Surfactant

-

DIAMOND

AN

Klercide  Quat / Biguanide Concentrate

Klercide-CR Biocide X

Quaternary Ammonium Compound & Biguanide

-

QT

Comparisons in this chart are based upon approximate chemical composition, not performance. For full efficacy and composition of Cleanroom Supplies products, click on the product names.
Choosing the correct biocides and sporicides for your own facility involves comparing product efficacy against the bacteria and spores which your environmental monitoring highlights. Rotating your disinfectants, of course, will always be necessary to eliminate all organisms and limit the risk of organism resistance.

Your environmental monitoring analysis will also tell you whether a particular sporicide should be part of your regular rotation or kept in reserve for occasional use or in response to breakout incident.
Selecting Delivery Method
There are four key considerations when selecting your disinfectant delivery method:
Sterility of product should not be compromised by the delivery method
Health & Safety of the Technician
Shelf Life
In Use Validated Sterility Life
When selecting which brands to stock, we took these four points into account, and as a result we provide a wide selection of delivery methods suited to different applications and preferences.

We rejected standard trigger sprays as environmental air can be drawn into the trigger and potentially contaminate sterile fluid, choosing instead bag in bottle technology to reduce this risk. Bag in bottle technology balances pressure between the bottle and the surrounding atmosphere.

Typically, our ready to use (RTU) disinfectants have a 2-year shelf life from manufacture and validated 3-month in-use sterility.

Trigger sprays do also bring the risk of creating aerosol or droplets of disinfectant chemicals within the cleanroom atmosphere. The NHS Pharmaceutical Micro Protocols Group, also highlighted that although spraying is an effective delivery method – best practice recommends the use of impregnated wipes to limit health and safety corrosion effects.

Given these considerations, many cleanrooms are preferring to validate the use of either pre-saturated pouch wipes or activated on demand burst pouch wipes within their cleanrooms.

You will see a range of both type of pre-saturated wipes and pouch wipes on our website.

Also of use when maintaining sterility are our high quality, ultra-low lint Polyester and Cellulose Cleanroom Wipes and Disposable Mop Covers. These products are Gamma Irradiated and double-bagged for cleanroom transfer, and they are ideal for use with concentrates and liquid dosing of disinfectants and detergents.
Why Choose Cleanroom Supplies For Your Cleanroom Disinfectants?
To find out more about out Free Support - Click Here