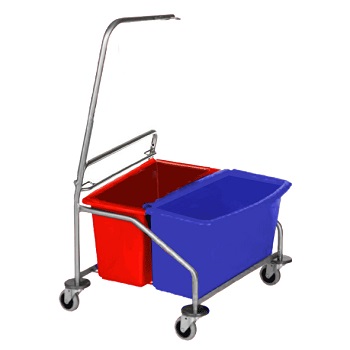 Berkshire Twin Bucket Trolley
The Berkshire mop system includes the stainless steel trolley and twin, colour coded bucket system for hygienic separation of clean and dirty. The trolley is supplied with two easy to remove pails, this allows you to keep dirty water separate from clean water. The blue mop bucket is for clean water and the red bucket is for wringing excess water.
Built around a durable modular system, the Mopping Trolley can easily be customised to suit your needs, or adapted to meet your requirements.
FEATURES
Trolley Overall Dimensions: 660mm (L) x 520mm (W) x 970mm (H)
Includes Blue and Red Bucket
4 x 75mm Castors
OPTIONAL EXTRAS
Simply choose which wringer you need. Purchase separately by clicking on the images below:
For a flat mop system choose the stainless steel perforated sieve. For string mops, choose the wringer.
DELIVERY
Free UK Delivery See terms
PRICES
1 Trolley with 1 x Red and 1 x Blue Buckets = £545.00