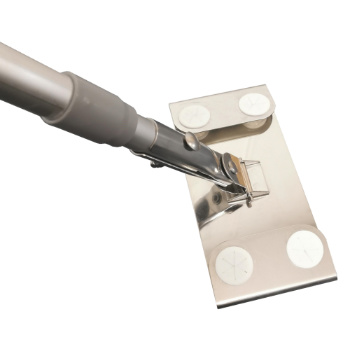 Stainless Steel Mop Frame
NOTE: Please be aware that due to the current volatile prices of Stainless Steel, we are unable to guarantee the web prices on any of our Stainless Steel items. Once you have placed your order, we will contact you to advise of any changes to the pricing.
A stainless steel mop head specifically designed for maintaining cleanliness in critically controlled environments. The polished stainless steel frame ensures optimum levels of cleanliness, with low particulate levels and strong chemical resistance. The solid base of the mop head means that the mop glides easily over smooth surfaces. Suitable for use with a range of wipes. Available in 2 sizes.
Price includes an aluminium telescopic handle. The handle has a diameter of 26mm and is 990mm long, extending up to 1830mm. Simply click the handle on to the mop head to assemble. To extend or shorten the handle, twist the top half anti-clockwise to loosen it, slide it to the desired length and then twist clockwise to tighten it again.
FEATURES:
Manufactured from high quality polished stainless steel
Strong chemical resistance
Slides easily on smooth floors
Suitable for use in critical environments
SIZES:
Small = 20cm x 10cm
Large = 35cm x 10cm
SEE ALSO:
Wipes for small mop head: Optimum Protection Sterile Cleanroom Wipes
Wipes for large mop head: Sterile High Quality IPA Wipes or Sterile High Quality Detergent Wipes