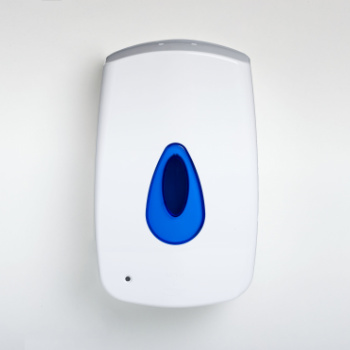 Dispenser for Hand Sanitising Gel
A wall-mounted, automatic dispenser for use with any hand sanitising gel. Manufactured from robust ABS plastic, it contains a 1.2L reusable reservoir, allowing you to easily refill the dispenser with sanitiser once it's empty. A large window on the front panel enables you to quickly see the level inside. Suitable for use with most hand sanitisers on the market.
Touch-free dispensing brings better hygiene to any environment and helps monitor usage by controlling the amount dispensed. No electrical fitting is required, as each dispenser is economically operated by size C batteries. To ensure optimum cost savings, the device has a "sleep" mode and a capacitive sensor that prevents accidental dispensing.
This version comes with a liquid pump for hand sanitising gels, but pumps are also available for foams and sprays. Please enquire if you have specific requirements.
Suitable for use with our Hand Sanitising Gel - 5L Refill and Professional Hand Sanitising Gel - 5L Refill.
FEATURES:
Suitable for most hand sanitisers
1.2L Capacity
Robust ABS Plastic
Large window for checking sanitiser levels
Battery powered, touch-free dispensing
Hygienic