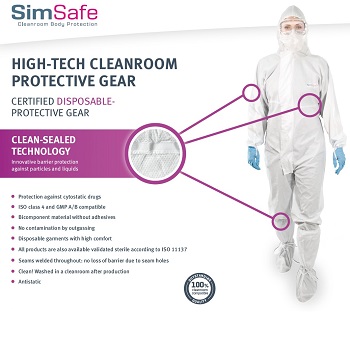 Simsafe Sterile Type 4 & 5 Coveralls
An antistatic, sterile protective coverall with thumb loops, and elastic hood, wrists, ankles and waist. Each coverall is manufactured from an innovative processed bicomponent material without adhesives, for high quality comfort and protection. All seams are fully welded and the front size has a self adhesive storm flap, giving the garment Type 4 protection against liquid spray. This garment provides excellent protection against cytostatics
The specially-developed clean-sealed technology ensures that weak points, such as seams, are thermally sealed. This provides additional barrier protection against particles and liquids. By wearing SimSafe coveralls, no additional sleeve protectors or aprons have to be worn during the production of cytostatic drugs. The bi-component material developed for the SimSafe line dispenses completely with adhesives when connecting the carrier component and protective component. Outgassing by adhesives is therefore avoided.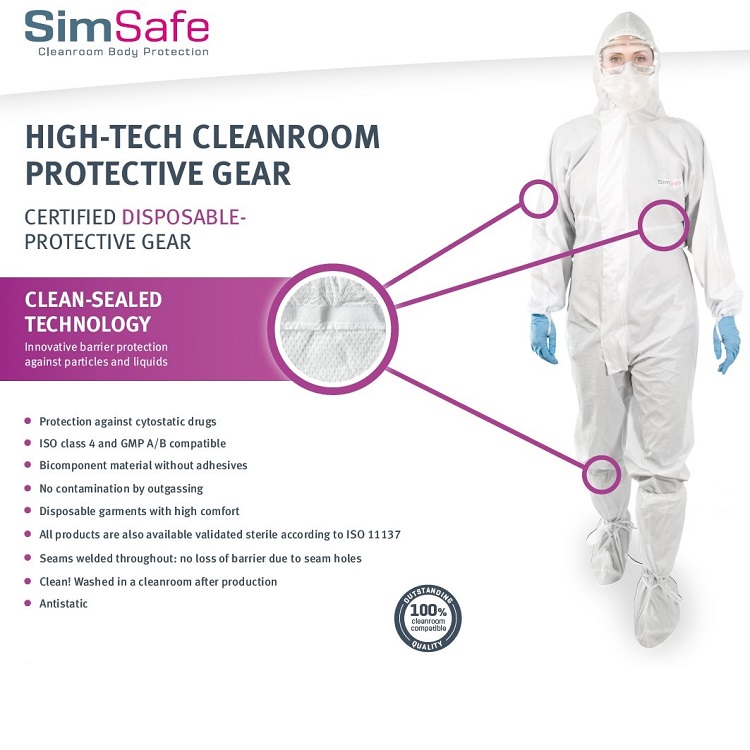 All SimSafe products are available in validated sterile and non-sterile versions and are vacuum-packed in IPA-resistant, easy-to-open bags.
The only water laundered non-woven material
SimSafe is the only non-woven material which undergoes water clean treatment to achieve the required cleanroom condition. All other cleanroom non-woven apparels are only produced in cleanroom environment or clean processed.
All garments are manufactured using a unique clean-sealed technology and are vacuum packed in IPA resistant bags, making them suitable for use in ISO 4 (GMP A/B) class cleanrooms.
Sold in cases of 50.
PLEASE NOTE! Other sizes are available - please enquire. Overboots are sold separatley HERE
FEATURES:
Type 4, 5 & 6 Certified Category III
Anti-Static to EN 1149-5
Self-Adhesive Flap Over Zip
Fully Welded Seams
Elasticated Hood, Wrists, Ankles and Waist
Antistatic
Vacuum Packed and Sterile
Recommended for ISO 4 (GMP A/B) Cleanrooms