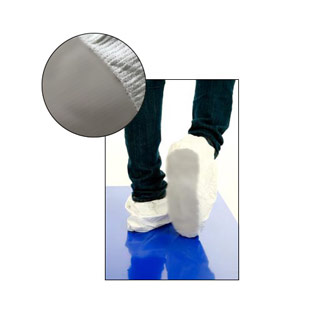 Anti Slip Microporous Overshoes
Microporous material is soft and breathable, strong and resistant to chemical splash. Suitable for a variety of applications. Suitable for clean room applications. Sole is made with PVC material making the shoe slip resistant.
For full details, download the Techincal Data Sheet
A serious alternative - at a fraction of the cost.
LABORATORY REPORTS:
See how effective our anti-slip shoe covers are - click the link: Anti-Slip Drag Resistance Test Report
FEATURES:
Anti Slip Sole Material
Low lint
Protects the wearer from their environement or the environment from the wearer.
Available in Cases of 300 Shoe Covers (150 Pairs)
SIZES:
Regular
Large
CERTIFICATION: