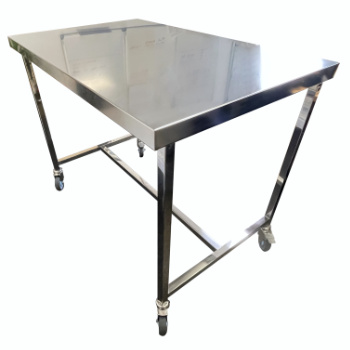 Stainless Steel Fully Welded Table - Electropolished
NOTE: Please be aware that due to the current volatile prices of Stainless Steel, we are unable to guarantee the web prices on any of our Stainless Steel items. Once you have placed your order, we will contact you to advise of any changes to the pricing.
Fully welded stainless steel construction for cleanroom, laboratory and food preparation areas. These products are designed and manufactured with quality and strength in mind. Ideal for sterile and hygienic environments, they provide an easily cleanable working surface. Suitable for hygienic use within cleanrooms and laboratory environments. Electropolished surfaces greatly reduce bacterial colonisation.
Read Our Blog for more information: 3 Huge Benefits of Electropolished Stainless Steel Furniture.
The legs are manufactured from fully welded 30mm stainless steel box section, and have low level box section tie bars. Each leg is fitted with lockable castors to enable easy transportation. All welds are ground and polished to ensure minimum contamination pockets.
Standard dimensions: 1200mm L x 900mm H x 760mm D - Bespoke Sizes Available - Please Contact Us to Discuss Your Requirements
The frame comes with a DP1 Brushed finish as standard. For an additional cost, we can also electropolish the frame. Please enquire.
FINISHES:
The below images illustrate the difference between a standard DP1 Finish and an Electropolished Finish.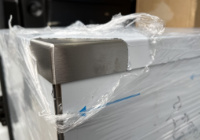 Standard DP1 Finish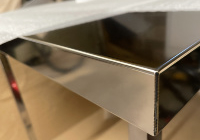 Electropolished Finish
DELIVERY:
Due to the risks involved in transporting items with a highly polished finish, we do not send this item using a courier or a pallet company, only dedicated transport.