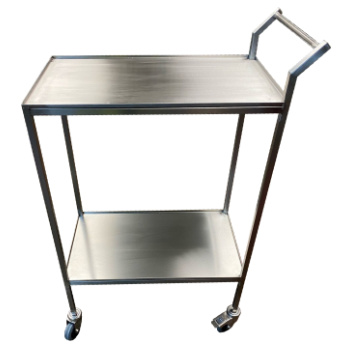 316 Stainless Steel Fully Welded Trolley - BESPOKE
We understand what it is like when all the standard cleanroom furniture catalogues are too standard and not quite what you are looking for. We also fully understand the importance of good design and quality manufacture when dealing with controlled environments. That is why we have developed a free design service to help you create a custom trolley that perfectly suits your requirements.
316 Grade Stainless Steel trolleys are difficult to come by because they are often not a standard item. Here at Cleanroom Supplies, we have a solution to help overcome that probem. We will work with you and design the trolley to your specification, then produce a quote, along with CAD drawings of your design. Once you are completely happy with the design, we will manufacture and deliver it to you.
For more information on our bespoke furniture design service, see our bespoke furniture page.
FEATURES & OPTIONS:
316 Grade Stainless Steel
Sturdy , fully welded construction
Size Determined by you or we can assist and advise.
Shelf Lips or Upstands
Lockable Castors / Anti Static Castors
2 or 3 Tier
The options are endless, so fill in our enquiry form and let us design something to suit you!
REQUEST A QUOTE


If you have a design in mind and would like us to provide you with a quote, please send us an enquiry using the form below, and someone will be in touch as soon as possible to discuss your requirements.
This website uses javascript to enhance your browsing experience.
We recommend that you enable the use of javascript to get the most out of our website. Please see the links below for guides on how to enable scripting in your browser.