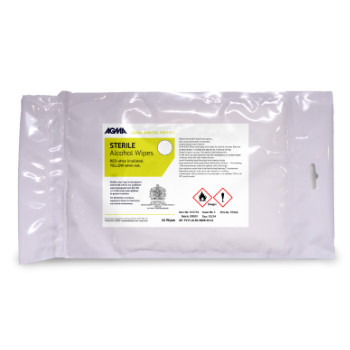 Sterile IPA 70% in WFI Wipes
70% Isopropanol or isopropyl alcohol (IPA) in water for injection quality water (WFI). All products use European Pharmacopeia grade alcohol blended with WFI quality water to guarantee endotoxin levels below 0.25 EU/ml, prior to being sterilised by a fully validated gamma irradiation process at no less than 25kGy.
A premium quality product suitable for use in all cleanrooms. Packed in a triple laminate, re-sealable foil bag which is easy to open and close whilst wearing gloves.
All products are available with full Quality Assurance documentation including:
Certificate of Analysis – C of A
Certificate of Irradiation – C of I
Certificate of Conformity – C of C
FURTHER INFORMATION:
Learn more about the irradiation process here.
Discover the difference between DE and IPA alcohol here.
FEATURES:
High Quality, Low Particulate Wipes
Wipe Dimensions: 280 x 380mm
Supplied quarter folded for easy wiping convenience
Doesn't contain any chemical binders
0.2 micron filtered and 25kGy gamma irradiated for sterility
Low Endotoxin level – suitable for product contact areas
Batch coded with Detex dot to clearly indicate irradiation
2-year unopened shelf life