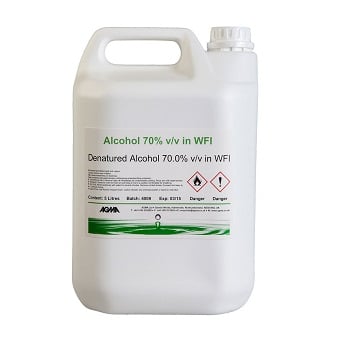 Non Sterile 70% DE (Denatured Alcohol)
Online orders are limited to 1 x bottle for domestic use. Legitimate business use is limited to 15 x 1L bottles or 4 x 5L bottles. We will vet each order, and cancel and refund orders we deem not to be adhering to these limitations. For larger bulk orders for front line and NHS - you must email your requirements first to [email protected].
We are not currently delivering to domestic addresses. Stock is being conserved for medical related front line services.
70% Denatured ethanol alcohol (DE) in water for injection quality water (WFI). All products use European Pharmacopeia grade alcohol blended with WFI quality water to guarantee endotoxin levels below 0.25 EU/ml.
Our 70/30 DE alcohol has many uses and is manufactured to the highest standard. In the cleanroom setting, alcohol disinfectants refer to two chemical compounds, denatured ethyl alcohol (DE) and isopropyl alcohol (IPA) also referred to as isopropanol. IPA and DE are broad spectrum antimicrobial and are rapidly bactericidal, fungicidal and viricidal, killing most bacteria within five minutes of exposure.
See our guide : Which Alcohol Should I Use ?
For full details, download the SDS Sheet from the SDS tab above.
For IPA Specification download the Technical Sheet from the Technical Tab above.
DELIVERY INFORMATION:
Please note that due to the Transportation of Dangerous Goods Act, the price of this item includes the additional cost for hazardous materials handling. This is unavoidable as the law requires special handling. Although this is a stock item, these regulations result in a slightly longer delivery time - typically 2 days for mainland UK. If your order includes other items, they may be sent by UPS on a next day service and the chemicals will follow by special courier.
FURTHER INFORMATION:
Discover the difference between DE and IPA alcohol here.
FEATURES:
Fully assembled and ready for use
2 Years unopened shelf life from manufacture
0.2 micron filtered
Low Endotoxin level – suitable for product contact areas