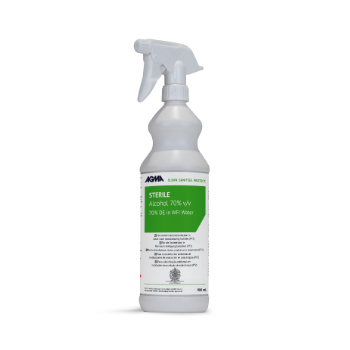 Sterile Denatured Ethanol (DE) Alcohol - 900ml Trigger Sprays
We are not currently delivering to domestic addresses. Stock is being conserved for medical related front line services.
70% Denatured ethanol alcohol (DE) in water for injection quality water (WFI). All products use European Pharmacopeia grade alcohol blended with WFI quality water to guarantee endotoxin levels below 0.25 EU/ml, prior to being sterilised by a fully validated gamma irradiation process at no less than 25kGy.
A premium quality product suitable for use in all cleanrooms. Double bagged and suitable for transfer.
All products are available with full Quality Assurance documentation including:
Certificate of Analysis – C of A
Certificate of Irradiation – C of I
Certificate of Conformity – C of C
Bag in bottle technology balances air pressure ensuring sterility once in use. Trigger spray is designed to help reduce repetitive strain on operator.
See our guide : Which Alcohol Should I Use ?
For full details, download the SDS Sheet from the SDS tab above.
For IPA Specification download the Technical Sheet from the Technical Tab above.
We hold many data sheets relating to this product. Such as micro testing, sterility validation, endotoxin reports and external efficacy test data. If you require any of this additional information, please do not hesitate to contact one of our team.
DELIVERY INFORMATION:
Please note that due to the Transportation of Dangerous Goods Act, the price of this item includes the additional cost for hazardous materials handling. This is unavoidable as the law requires special handling.
FURTHER INFORMATION:
Discover the difference between DE and IPA alcohol here
FEATURES:
Fully assembles, sterile and ready for use
Trigger sprays are individually double bagged
6 x 900ml trigger sprays per case
2 Years unopened shelf life from manufacture
Validated In-Use sterility for 13 weeks
0.2 micron filtered and 25kGy gamma irradiated for sterility
Low Endotoxin level – suitable for product contact areas
Filled and double bagged under Grade A conditions in a Grade C (ISO 7) cleanroom
Batch coded with Detex dot to clearly indicate irradiation