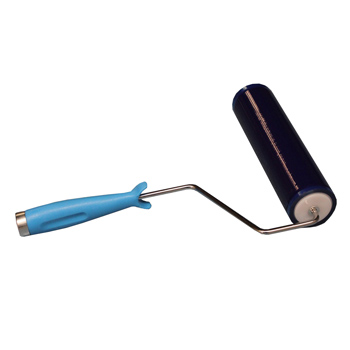 Sticky Roller
Each sticky roller is composed of polyethylene sheets coated with a water-based adhesive treated with anti-microbial agent, effectively capturing dirt and dust particles from flat surfaces such as walls, ceilings, floors and table tops. The rollers are designed to provide maximum efficiency when cleaning both wide and narrow areas, with less frequent sheet disposal.
Rolls are 18m in length, with perforations every 17cm (approx. 100 sheets per roll)
When a sheet becomes contaminated, simply peel it off to expose a clean one. When all the sheets have been used, slide the roller off the handle* and replace with a new one.
Widely used in environments such as cleanrooms, laboratories, hospitals and manufacturing facilities
*Don't forget to order your Roller Handles and Extender Poles (Sold Separately)
Features:
Strong, non-toxic adhesive coating
Easy sheet removal
Specially designed to efficiently clean hard to reach areas
Approx. 100 sheets per roll
Handle Extender available (40cm which extends to 80cm)
Sizes Available:
Small - 20cm (8") x 18m
Large - 30cm (12") x 18m
You may also be interested in: