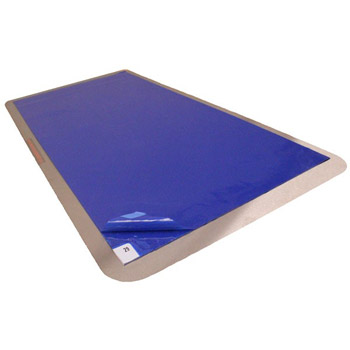 Stainless Steel Sticky Mat Floor Frame
NOTE: Please be aware that due to the current volatile prices of Stainless Steel, we are unable to guarantee the web prices on any of our Stainless Steel items. Once you have placed your order, we will contact you to advise of any changes to the pricing.
Manufactured from 304 grade 0.9mm Thick Stainless Steel low profile floor plate to retain Tacky Mats and preserve the floor finish from the adhesive mat. Low profile which means its less of a trip hazard. Stainless Steel is strong and durable.
Recommended particularly for carpeted floors. Also protects from adhesive residue on painted or vinyl floor finishes. Reusable Stainless Steel Floor Plate. To Suit Our Tacky Mats. Anti-skid double sided adhesive stripes on bottom.
Tacky Mats can be purchased seperately. Available in Blue or White
FEATURES:
Retains Tacky Mats and protects floor finish
Reusable Plate to Suit Our Mats
Anti-Skid Double Sided Adhesive Stripes on Bottom
Strong and Durable Stainless Steel
SIZES:
Small Floor Frame: 1000mm x 500mm
Medium Floor Frame 1200mm x 500mm
Large Floor Frame 1200mm x 700mm