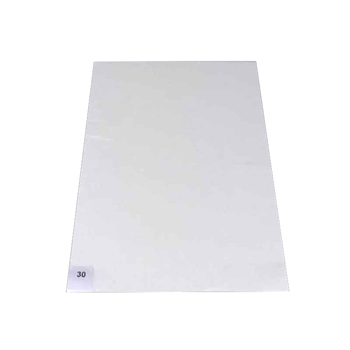 Multi-Layer Tacky Mat - White
Removes contamination and cleans shoe soles before entry into cleanrooms, laboratories etc. Film contains antibacterial 'PROXEL' LV produced by AVECIA biocides to reduce bacteria growth. The mat is simply stuck to the floor near an entry or exit door by removing the rear protective backing layer. Each tacky mat layer is then peeled off when dirty to reveal another new layer. Each layer is coated with a high tack adhesive which removes dust or dirt contamination. Also ideal also for the Construction Industry.
Stainless Steel floor frames are avaiable Here.
Polypropylerne floor frames are available Here.
For full details download the Techincal Data Sheet.
Click on the Video tab to see just how effective Optimum Tacky Mats are.
Laboratory Test Reports:
Features:
30 easy peel polyethylene sheets per mat - 4 mats per box.
Each Case has 4 Tacky Mats (each mat having 30 removable layers)
Colour: White
Available in 3 sizes (see below)
Sizes:
Small: 92cm x 46cm (36" x 18")
Large: 115cm x 66cm (45" x 26")
Tacky Mat information video:
Phillipa

My call was answered very quickly by someone who said that they would put me through to the Quality Department. Again this was answered immediately. I was asking for a free sample therefore was not sure that I would get a positive response, however Alice took my details, explained that it may be possible to supply a free Tacky Mat sample, and said she would call me back. Alice called me back within 5 minutes to confirm that a sample tacky mat would be sent out today, excellent service!

5

/

5