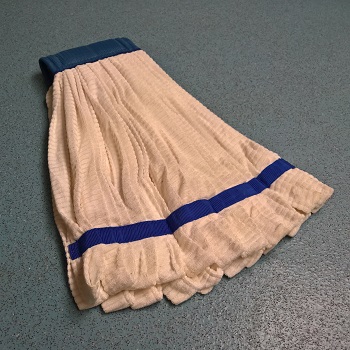 Cleanroom String Mop Head - Microfibre
As part of our cleanroom-suitable mop system, we offer microfibre string mop heads. These are designed to fit with our autoclavable mop handle and clamp.
Our microfibre mop heads may be laundered and reused. This is intended to make it easy to maintain high standards of hygiene and contamination control.
Our intention is to provide a floor cleaning solution for laboratories, food preparation areas, cleanrooms, surgeries, and other hygiene-critical locations.
We also offer a flat mop system better suited to cleaning walls and ceilings.
MAKE SURE YOU HAVE OUR RE-USABLE MOP CLAMP & HANDLE!
Click on the image below to add a mop clamp and handle to your basket:

FEATURES:
White 88% polyester/12% nylon microfiber string mop with blue headband and tailband
Microfiber yarns attract and trap dirt and debris
Terry knit structure enhances absorbency to increase efficiency
Tubular knit construction with sewn head and tail bands provides added durability
Lot number assures traceability
Chemical resistant and non-abrasive
Autoclavable
Unlaundered
Suitable for ISO Class 3 to 8 Cleanroom Use
We can also provide longer reach handles more suited to cleaning high cleanroom walls and ceilings. Please contact us with your requirements.