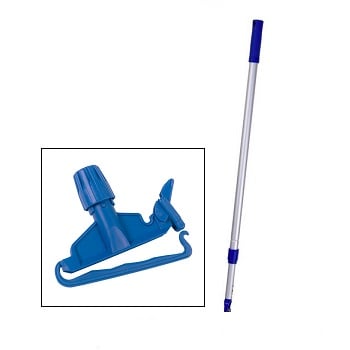 Cleanroom String Mop Head Clamp & Handle
Our string mops are designed to keep floors clean enough for the high standards of cleanrooms, laboratories, operating theatres, and food production areas. They're also suitable for any other hygiene-critical location.
This mop clamp is designed to work with both our microfibre and polyester string mop heads. It is made to a high-quality standard and boasts a quick action release and lock mechanism.
The mop pole is fixed length and manufactured from aluminium.
These string mops are designed for floor cleaning. We also stock a flat mop system for wall and ceiling surfaces.
DON'T FORGET TO ORDER MATCHING MOP HEADS!
Click on the images to view the different mop heads:
FEATURES:
Head is lightweight and durable
Handle Made from Anodized Aluminium with twist lock adjustment. Handle length is 137cm (approx. dims)
Colour coded clamp options for hygiene and cross contamination protection.