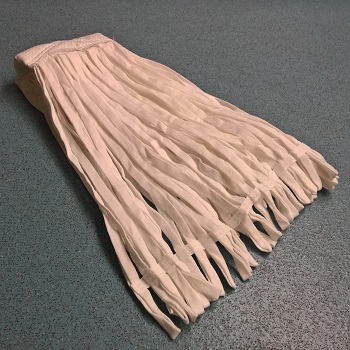 Cleanroom String Mop Head - 100% Polyester
The string mops we stock are designed specifically to suit the needs of cleaning floors in surgeries, cleanrooms, laboratories and other hygiene-critical locations. We also offer a flat mop system for wall and ceiling surfaces.
These polyester mop heads are intended as disposable after use. We also offer microfibre mop heads designed to be laundered and re-used where appropriate.
Another key part of maintaining contamination control with these mops are autoclavable mop clamps and handles. That way, only the mop head need be disposed of.
MAKE SURE YOU HAVE OUR RE-USABLE MOP CLAMP & HANDLE!
Click on the image below to add a mop clamp and handle to your basket:

FEATURES:
100% knitted polyester
Each mop head is individually packaged
Laundered and packaged in an ISO Class 4 (Class 10) cleanroom
Tubular knit construction with fan tailed looped ends, minimizes particle generation
Autoclavable per standard operating procedures
Suitable for ISO Class 3 to 8 Cleanroom Use