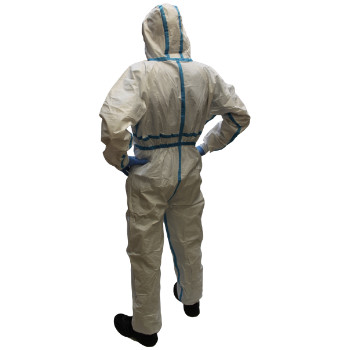 OPTIMUM PLUS Type 4 Coveralls
A serious alternative...at a fraction of the cost.
OPTIMUM Type 4, 5 & 6 coveralls are a superior quality garment manufactured from breathable liquid resistant microporous material. The material allows the skin to breathe whilst resisting the penetration of many different non-hazardous liquids and particles. The material is strong and our garment offers knitted cuffs for a more comfortable fit. Typical applications include laboratory, clean rooms, pharmaceutical, food processing, forensic science, medical and paint spray.
Our Type 4 Garments have the added feature of taped seams which provides added protection, allowing the garments to be classified to Type 4 Cat III. These garments are suitable for providing protection against viral contamination. Suitable for protection against Ebola and simlar viral protections.
OVERBOOTS can be purchased separately.
For full details download the Technical Data Sheet
Features:
Type 4, 5 & 6 Certified Category III
Anti-Static to EN 1149-5
Barrier to Radioactive Particles - Class 1
Barrier to Infective Agents - EN 14126
Low Lint Microporous Material
Breathable Fabric
Knitted Cuffs
Self-Adhesive Flap Over Zip
Delivery:
ORDER 1 CARTON FOR FREE UK NEXT DAY DELIVERY - see terms
Prices:
Size
Quantity
Price
All Sizes
Pack of 5 Coveralls
£ 25.85
All Sizes
Carton of 25 Coveralls
£ 99.25
Equivalent price of £3.97 each based on carton price.