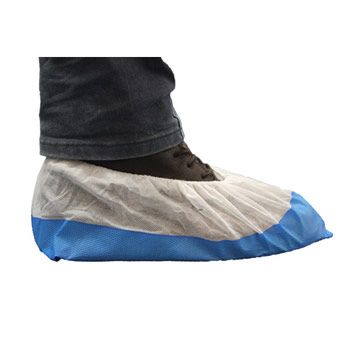 PLEASE NOTE: We are trying to balance supply of this product between many customer requirements. If you want to order more than 1 case, please first of all email your requirements to [email protected]. Or call us on 01768 896 800. Thank you for your understanding.
CPE/PP Anti Slip Shoe Cover
Heavy duty CPE sole with good and effective anti-slip properties due to micro-indentations. With polypropylene upper.
FEATURES:
Water resistant
Thicker Guage Material than standard CPE Overshoes
Elasticated
QUANTITIES:
Regular - 500 Shoes (250 Pairs) per carton
Large - 500 Shoes (250 Pairs) per carton
SIZES:
Regular - Size 5 to 10 Shoes
Large - Size 10 to 14 Boots
Steffanie


It was refreshing to get through to the company within a minute of calling. A real person answered (rather than an automated response with a series of options to choose from.) Friendly, polite and professional, personnel. I was advised about the product I was looking for and it was delivered within two days. Excellent service! The Anti-Slip shoes covers are exactly as described and perfect for the job. I would not hesitate to recommend Cleanroom Supplies and will definitely use the company again. Thank you.



5/5