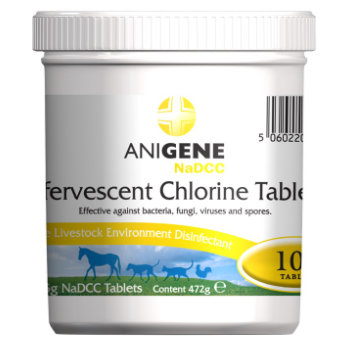 Animal Health Disinfectant Tablets
A powerful disinfectant in the form of a powder compressed into a tablet, which kills bacteria, fungi, viruses and spores of infections body spills within 2 minutes. The active ingredient, sodium dichloroisocyanurate (NaDCC) is formulated with effervescent salts to aid its dispersion in water and compressed into tablet form. The result is a fast-dissolving, highly convenient and safer alternative to liquid bleach.
This disinfectant is DEFRA approved and is ideal for use as an emergency product in the event of a Notifiable Disease outbreak. It has also been approved for disinfection of inanimate surfaces where an approved product is required under the control legislation for the following specific diseases:
Foot-and Mouth Disease
Swine Vesicular Disease
Poultry diseases, including Avian Influenza, Influenze of avian origin in mammals, Newcastle Disease and Paramyxovirus
Tuberculosis
It is also approved for disinfection of inanimate surfaces where General Orders require the use of an approved disinfectant.
DEFRA Diseases of Animals (Approved Disinfectants) Dilution Rate:
| | | | | |
| --- | --- | --- | --- | --- |
| Foot and Mouth Disease Orders | Swine Vesicular Disease Orders | Diseases of Poultry Order and the Avian Influenza and Influenza of Avian Origin in Mammals Order | Tuberculosis Orders | General Orders |
| 424* | 317* | 490* | 12* | 360* |
| 1 Tablet in 2L of Water | 1 Tablet in 1.5L of Water | 1 Tablet in 2.2L of Water | 18 Tablets in 1L of Water** | 1 Tablet in 1.7L of Water |
* ml per 1g of disinfectant
** seek advice regarding COSHH and protective equipment
With a shelf life of 5 years, the solution presents as an economic option for treatment of body fluid spills as recommended by most infection control departments.
Solutions remaining after the use of this disinfectant contain cyanuric acid or its salts. Within the environment, cyanurate is readily degraded by micro-organisms.
The problem of corrosion associated with liquid bleach has often resulted in the use of more expensive and less effective alternatives. It has been demonstrated that chlorine solutions produced using NaDCC tablets are in general significantly less corrosive.